Unified communications (gloCOM)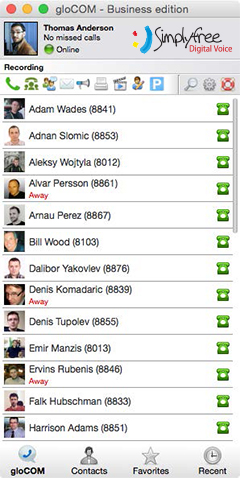 Dial directly from your desktop PC using Outlook, Google Contacts or your CRM* with this desktop and mobile application from gloCOM.
*Dependent on your package.
gloCOM is cross-compatible across Android, Windows, Apple Mac OS X, Linus, and Apple iOS systems.
Communication capabilities
gloCOM gives you all these features, available directly through your desktop PC or mobile:
Instant messaging
Voice and video calling
Audio and visual conferencing
Contacts integration
Faxing
CMS integration
Productivity actions
Personalisation
Simplicity of use
Instant messaging
Chat or group chat, display your status message, send files, share desktops. Use Company Private Online Chat or connect to MSN or Google Talk or set up live customer support chat.
Contacts integration
Faster and more effective managing of contacts:
Import Outlook contacts
Import Apple address book contacts
Import Google contacts
Import Linux contacts
Supports MS Exchange full features
Native phone book you can customise
CRM integration
Boost sales, retain customers and save money. gloCOM integrates with Sales Force and SugarCRM.
Audio and video conferencing
And more!
Contact Simplyfree today on 0800 47 46 75, or email us to get unified communications for your business.
Unified communications can easily be used to work from home. Perfect to have set up in case of natural disasters and pandemics like the COVID-19 Coronavirus. Having Unified communications set up means you're ready to go when disaster strikes. It can also be set up reasonably quickly so don't hesitate to contact us for more information.

New Zealand's local
small to medium business telecommunications
specialists and providers​